On behalf of the IRCRA executive board, it is my great pleasure to welcome you to the 5th IRCRA Congress, being hosted in Tokyo, Japan. It has been three long years from the last IRCRA Congress due to the world pandemic, so it means we are even more excited to finally running this wonderful event. Since the first edition in 2011 by Nick Draper, IRCRA has established a solid international reputation as the world's leading research climbing Conference. We enjoyed in Pontresina (Switzerland), Telluride (CO, USA), Chamonix (France), and finally Tokyo (Japan). However, Tokyo will be online this time. We were excited to be there after Climbing Debut at the Olympic Games. Nevertheless, everything changed due to the COVID-19 pandemic. Nowadays, the 5th IRCRA online Tokyo Congress will be highlighted our greater adaptation capacity and our enthusiasm to carry out this congress despite all the difficulties caused by the COVID-19.  I really hope you enjoyed the 5th IRCRA Congress. It is always an occasion to discuss the latest findings and research efforts in our climbing field as well as new approaches from different perspectives, and possibilities for our athletes. In other words, to bridge the gap between climbing research and practice. Remember that IRCRA provides a tremendous opportunity to climbing practitioners and researchers working in the fields related to rock climbing  to meet their peers, establish productive collaborations, exchange ideas, advance the state of the art and make a positive impact on climbing society and the environment.  Thank you, Shinji Mizumura!!. As an organization, we are very grateful to you and the Organizing committee for taking the lead with the current COVID-19 circumstances and having finally this wonderful 4-days experience. Thanks Taylor Reed for being my right hand during the process. Thanks to all the Scientific committee to accepted and reviewing with such rigor in a very short time. Finally, and most important, thank you to all the coauthors and participants to be part and believe in this 5th IRCRA Congress.
Special words to Pierre Legreneur for being involved with so much energy at IRCRA, for bring ever more rigor to this panel and, of course, for believing in me to be the President for the next coming years. I hope to be carry out this charge at least as you did. I am really grateful, I miss you and I hope to have you close very soon.  Finally, I hope this Congress experience will leave you longing for your next IRCRA event, which will be our 6th Congress to be hosted in Cadiz, Spain in 2023.  Welcome to the 2021 International Rock Climbing Research Association Congress!
IRCRA President: Vanesa ESPAÑA-ROMERO (Spain) 
Dear member of the climbing community,
Welcome to Meiji University, Tokyo, Japan, for the 5th International Rock Climbing Research Association (IRCRA) Congress that is held three months after the Tokyo 2020 Olympic Games. It is a great pleasure for me to welcome you for four days to bridge the gap between climbing research and practice. The organizing committee and Meiji University have been working for almost two years to welcome you to the Izumi Campus of Meiji University. With the spread of COVID-19 infection, although we have not had an onsite Congress in Tokyo, we can have a virtual meeting. I am delighted to hold the 5th Congress. Please learn and enjoy the contents of this Congress through twenty-nine (29) live, ten (10) video peer-reviewed presentations, four (4) plenary lectures, three (3) special reports from Japanese legendary climbers, and four (4) reports from Olympic National coaches, eight (8) breakout sessions to communicate with coffee or some drinks. Finally, I hope all the participants will have a wellness life with climbing.
5th Congress Organiser: Shinji Mizumura (Meiji University, Japan)
Executive board of the IRCRA
     President : Vanesa ESPAÑA-ROMERO (Spain)
     Treasurer: Ludovic SEIFERT (France)
     Secretary: Taylor REED (USA)
Congress Organiser: Executive Committee of the 5th IRCRA Congress
                                 104 1-9-1 Eifuku, Suginami-ku, Tokyo, 168-8555, JAPAN 
 Congress Manager : Shinji MIZUMURA (Meiji University, JMSCA, Japan)  
                                 Email : ircra2020tokyo@gmail.com
 Chair of Scientific Committee : Vanesa ESPAÑA-ROMERO (Spain)
 Publishing and Public Relation Manager : Taylor REED (USA) 
 Venue Manager : Masako HARIGAYA (Meiji University, Japan)
 Vice-venue Managers : Rina MIYAWAKI (Meiji University, Japan) & Ryuichiro TOMIZAWA (JMSCA, Japan)
Scientific Committee (alphabetical order)
    Vanesa España (ESO) -Head
    Taylor Reed ('USA) - Vice-head
    Dave Giles
    Laurent Vigouroux 
    Ludovic Seifert
    Simon Fryer
    Volker Schöffl (GER)
    Xavier Sanchez 
Virtual (You can participate from anywhere by Zoom) 
Headquarter: Room 104 of the Faculty Building, Izumi Campus of Meiji University
 1-9-1 Eifuku Suginami-ku, Tokyo, 168-8555, JAPAN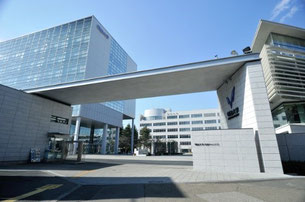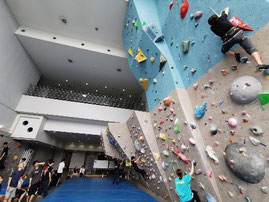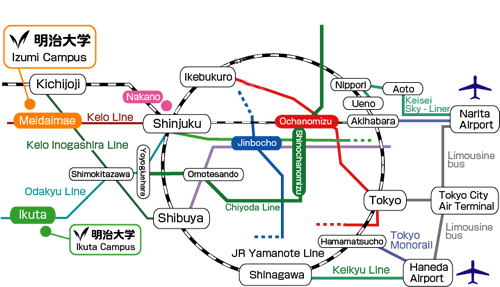 HEADQURTERS : Izumi campus of MEIJI University The 3rd and 4th floor of the Media Building
NEAREST STATION: KEIO LINE MEIDAIMAE
ADDRESS : 1-9-1 Eihuku Suginami-ku Tokyo, JAPAN
TRAVEL DETAILS
By air plane:
Tokyo International Airport (Haneda Airport) and Narita International Airport (Narita Airport) are the nearest International airport from the venue and the place to stay.
WHERE YOU SHOULD STAY?
Shinjuku is strongly recommended staying just before and during the Congress. It takes about 10 minutes from Shinjuku station to the Congress venue (Media Building of Izumi Campus of Meiji University); 5-6 minutes by KEIO LINE from KEIO Shinjuku station to MEIDAI-MAE station and 3 minutes by walk from the MEIDAI-MAE station to the venue. 
HOW TO GET TO SHINJUKU: 
BY BUS:
 You can take a shuttle bus from Narita airport to Shinjuku (Basta Shinjuku). From Haneda airport, you can take a bus bound for 
 Timetable1 (from Narita to Shinjuku Expressway Bus Terminal): 
 https://www.limousinebus.co.jp/en/areas/bus_stop/nrt/shinjuku/dep/279/
 Timetable2 (from Haneda to Shinjuku Expressway Bus Terminal):
 https://www.limousinebus.co.jp/en/areas/bus_stop/hnd/shinjuku/dep/279/4
BY TRAIN:
 You can use "HyperDia" which offers the route and the timetable of the railway and the aviation of Japan: